What's Old Is New
BIG COOL 1ST PLACE:

Venerable BC Clark reinvents itself as Oklahoma's largest and most innovative jeweler.
BC Clark Jewelers,
Oklahoma City, OK
OWNERS: Coleman Clark, president; Jim Clark, chairman; Mitchell Clark, vice-president and director of marketing; URL: bcclark.com; FOUNDED: 1892; OPENED FEATURED LOCATION: 2020; AREA: 8,500-square-foot showroom; 16,900 square feet total; ARCHITECT: Todd Edmonds, principal, HSE Architects; TOP BRANDS: David Yurman, Rolex, Forevermark, Roberto Coin, Mikimoto; EMPLOYEES: 21; ONLINE PRESENCE: 4.9 Star Google rating with 254 reviews; 31,036 likes on Facebook
---
COLEMAN CLARK, PRESIDENT of BC Clark Jewelers, strides through the longest showroom aisle of the family's newest store in Oklahoma City, spacing each step to measure the length of the walkway. It's 100 feet long, he estimates, perfect for a putting green. He's anticipating a first "golf outing" in the store itself, soon. (There's already an artfully concealed hole in the floor.)
This stand-alone iteration of BC Clark, which is part of an upscale shopping center called Classen Curve, is the largest jewelry store in the state and the largest space the company has ever occupied. It's a far cry from the first location, established in 1892 in a corner of a five and dime in Purcell, Indian Country, by founder B.C. Clark Sr., who had lost his wallet en route. Still, being penniless didn't stop him. After establishing himself as a watchmaker, he later moved to Oklahoma City, where the third and fourth generation carries on the family tradition of service and determination.
B.C. Clark Sr. likely would have had a hard time envisioning the store his descendants have wrought with its 17-foot ceilings, its cascading 16-foot chandelier, walls of windows and a dramatic facade. Not to mention that
putting aisle and a hand-painted, outer-space-themed retreat for children tucked away behind a curtain with a wall-mounted TV.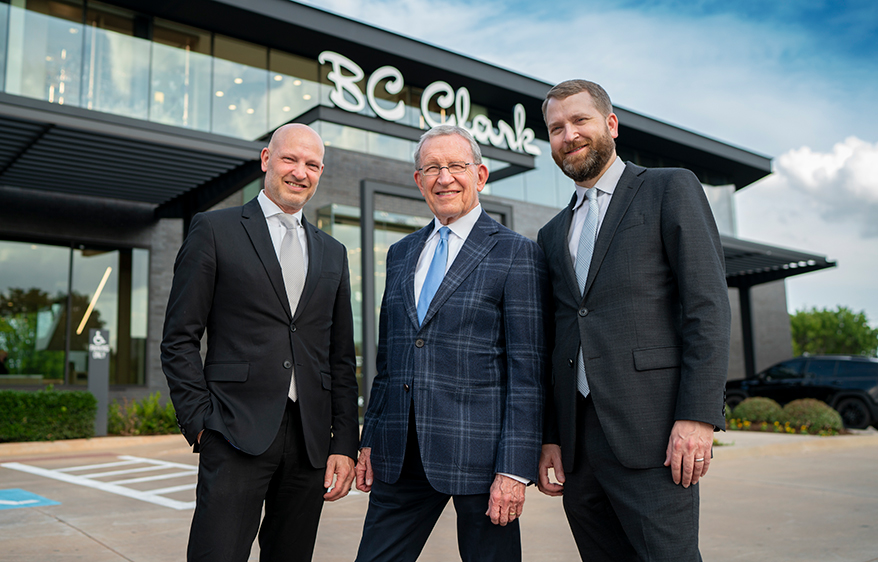 But B.C. Sr. likely would relate to their sense of purpose, devotion to customer service and adherence to tried and true business practices. The Clark family knows that good ideas may take a while to catch fire, but once established, are likely to stand the test of time. When they hire staff, they are able to engender the level of loyalty necessary to keep them. And their marketing and promotion plans are so long-lasting and integral to their brand identity that their Christmas jingle has been something of a state song since 1956.
Advertisement
For a business with such a storied tradition, Jim Clark, third generation chairman, and his sons, Coleman Clark and Mitchell Clark, represent a forward-thinking management team, offering generous benefits to their team, moving into e-commerce when called for, and being ready and willing to step up to the challenge of a major building project.
With their move to their Classen Curve store, they've brought everything that's been time tested about their business plan and dropped it into an elegant, modern setting.
Originally home to an upscale women's clothing shop and spa, BC Clark's newest location has space for a supersized second-floor lifestyle shop, where Oklahoma City's brides register for traditional china or silver, along with whimsical MacKenzie-Childs serving and accent pieces.
Advertisement
To fit the contemporary style of the shopping center, The Clarks were looking for a more updated interior than their other two traditionally styled locations. They wanted it to feel welcoming and inviting. And they needed more linear feet of showcase space to spread out inventory to make it look its best.
"And we definitely wanted to look like we moved up," Coleman says. "We didn't want to just move laterally. When we open a store, we're looking at the long term. We'll stay in a place 30 years or more. So, when we build it out, we really invest in the space. We go into it acting like we own it, even though we don't."
Architect Todd Edmonds, principal, HSE Architects, devised an open plan grid format with wide aisles and space for the Rolex Environment and the David Yurman Boutique along the side, where they've been artfully integrated.
One major change involved scaling down by half the width of the grand staircase, which ate up too much interior real estate. The other was breaking up the mostly solid front wall by adding multiple large windows, inviting in natural light along with an open, welcoming feel.
Advertisement
"Working with an existing space is a little bit more challenging than if we were starting from scratch," Edmonds says. "The size, the shape, the existing columns all need to be worked around."
The height of the space presented the biggest challenge from an architectural perspective. Modern lighting technology, though, made it possible to illuminate the voluminous space and even the jewelry from far above.
In addition, installing a custom-made curtain of chains to delineate the bridal area brought it down to a more comfortable size, making it feel more private and special. The chains, designed to represent the metals used in jewelry, have the look of a sculptural art installation.
Glass, stainless steel and marble-look tile were used for a simple contemporary look throughout the store, while wood in display cases and workstations add warmth.
On the second floor is the lifestyle gift and bridal registry space that includes a wine bar as well. An outdoor patio attached to the employee break room can double as an employee lounge and event space. A Coke machine occupies a niche that once was a shower stall in the former spa.
Advertisement
Advertisement
Not only is the Clark family willing to commit to its locations long-term, they also are committed to their marketing campaigns. "We've seen a lot of jewelers try short-lived promotions," Mitchell says. "But some of our promotions have taken a few years to catch on. When we do something that has some legs, we won't give up on it," Coleman says.
The most striking example of that is the Christmas jingle, known as Oklahoma's Christmas Carol, which debuted in 1956. Blake Shelton once sang a snippet of it on NBC Nightly News. "The key to the jingle," says Mitchell, "is it just plays once a year for five weeks. So, whenever people hear it, it brings thoughts of the holiday. It's become a Christmas carol in our community. People sing it at church and school recitals."
In 2020 they brought back their favorite commercial, "People Sing the Jingle" with a twist. Local people, as well as followers from all over the country, sang the jingle via Zoom and sessions were edited together into a 30-second TV spot.
For a Pay it Momward scavenger hunt that launched in 2009 the BC Clark team leaves a gift or two around the city every day for 10 days leading up to Mother's Day. "No matter where we leave it, someone is going to recognize it and talk about it on social media," Mitchell says. "It could be inside an ice bin in a 7-Eleven and someone will figure out from the shape or the brand of the ice which 7-Eleven it is. Or we'll put it on a sidewalk, and they will recognize the sidewalk. We've seen people running toward it!"
Advertisement
And of course, there's BC Clark's "Pray for Rain" campaign, a promotion trademarked more than 20 years ago. For all that time, BC Clark has been refunding up to $5,000 in the value of engagement rings to their client couples if it rains or snows an inch or more on their wedding day. So far, 225 couples have qualified.
Often, the Clarks say, if it rains or snows at a wedding, guests wonder aloud if the couple shopped at BC Clark.
JUDGES' COMMENTS
Jennifer Acevedo:

BC Clark is a heritage retailer that has embraced digital technology and marketing for the best of both worlds. An elegant, luxe interior demonstrates this store's commitment to excellence in design. Lighting design is exceptional.

Emma Boulle:

BC Clark has a wonderful story and legacy. The newly renovated interior is eye-catching and polished. The combination of the high ceilings, beautiful chandelier, and other designs is truly breathtaking.

Gabrielle Grazi:

The architecture of the building is visually striking with the brick and walls of glass on the second story. The 16-foot custom gold chandelier is a showstopper. Incredible use of light and lighting is evident throughout the interior. The shift in marketing during the pandemic with the Faith + Hope + Love campaign reinforces that BC Clark is an important pillar of the community. Paid volunteer day for employees is a wonderful perk.

Andrea Hill:

BC Clark clearly works hard on building its brand story. It has a clear personality, connection to its community, and a sense of purpose. Google reviews support that, with an average score of 4.9. Things I like about the marketing are that they work at it and don't just rely on brands for their marketing materials. They have created memorable elements, like their jingle, their Pray for Rain campaign, and their Faith + Hope + Love campaign.

Larry Johnson:

It is refreshing to see stores that are unafraid to allow their customers to have a little fun with their marketing campaigns. The interior design of the store is beautiful. Let the light shine in.

Eleanor Smith:

The interior is well presented with some strong architectural details that create an upscale environment.
PHOTO GALLERY
(14 IMAGES)
Five Cool Things About
BC Clark Jewelers
1. AUTONOMOUS BUYING. With the exception of a central buyer for loose diamonds, each BC Clark store has its own buyers that work with the vendors and know how to buy for the store. Their buyers are also salespeople, which creates natural communication.
2. HEART OF OKLAHOMA. In 2019, BC Clark commissioned a diamond called The Heart of Oklahoma. Cut from a 38.05-carat rough, this fancy intense yellow internally flawless diamond was polished to perfection to 18.92 carats to celebrate the company's founding year of 1892. The Heart of Oklahoma Diamond was worn on stage by Carrie Underwood at the CMA Music Awards before being sold to a local customer.
3. SUPPORTING VOLUNTEERS. To encourage the spirit of giving among the BC Clark team, the company offers employees eight hours of paid time off for volunteer work. Many team members volunteer to serve on boards, work as tutors or otherwise make an impact.
4. MESSAGE OF HOPE. The Faith + Hope + Love marketing campaign kicked off in 2020 at the start of the pandemic. The Clarks changed out all media with messages of hope during the early days of the lockdown and for much of 2020. They describe it as their way of bringing light in a very dark time for many.
5. DIGITAL SAVVY. On top of having a robust, fully shoppable website, BC Clark also has a strong digital presence on Facebook and Instagram with a combined total of more than 38,000 followers.
Try This:
Cultivate Staff Loyalty Through Empowerment and Benefits.
Mitchell, Coleman and Jim Clark all work from the corporate office downtown. "We stayed downtown, knowing that the staff here don't need us, honestly," Coleman says. "Nancy is a great manager, and she has great people here." Employee benefits include health care and support for education, both internally and through GIA, AGS and JA. "We have one of the most highly educated staffs in the country," Coleman says. Nancy Curry, store manager, has worked for the Clarks for 25 years and describes them as a wonderful family to work for. She points to the amazing benefits, including a generous 401K match and contests for staff, based on Google reviews, that carry cash incentives. The company is also extremely flexible with time off and is always closed on Sundays and major holidays. And for the past four years, they've closed the store on Black Friday, declaring it Family Friday so the staff can have two days off before the seasonal rush. Employee loyalty leads to customer loyalty. Some of BC Clark's clients have worked with the same sales professional throughout their entire adult lives.