It's All in the Details
BIG COOL 2ND PLACE:

Bringing London Jewelers' flagship salon to the next level of perfection is a labor of love.
London Jewelers,
Manhasset, NY
OWNERS: Mark and Candy Udell; URL: londonjewelers.com; FOUNDED: 1926; OPENED FEATURED LOCATION: 1984; LAST RENOVATED: 2020; AREA: 3,100 square-foot showroom; 16,000 square feet total; ARCHITECTURE AND DESIGN: Nelson Worldwide, Peter Marino; TOP BRANDS: Buccellati, Bulgari, Chanel, Chopard, David Webb, Gucci, Messika, Mikimoto, Piaget, Pomellato, Roberto Coin, Vhernier; EMPLOYEES: 200; ONLINE PRESENCE: 189,000 Instagram followers; 5 Stars on Facebook; 100 4.2 Star Google reviews
---
Photography by Andrea Brizzi and Starr Digital
When two perfectionists converge to own and manage multiple luxury jewelry stores, no detail is likely to be overlooked, say Mark and Candy Udell, owners of London Jewelers.
When Mark pulls up to the business, the first thing he does is get out of his car and walk the storefront.
"Our employees know we have a standard that is very important," Mark says. "I make sure the window displays look good and the windows and doors have no fingerprints. Because for me, there is zero tolerance for that. When consumers see a perfect storefront, it sets the tone before they even walk in."
Candy checks for smiles. "We're both perfectionists, so what he doesn't cover, I cover. Your image is the first thing people see when they walk through the door. It should be not intimidating, but friendly."
When Mark takes that morning walk, he has a lot of ground to cover. The London Jewelers Jewelry Salon is just one part of London's footprint at the Americana Manhasset flagship location that stretches across seven interconnected storefronts, all operated by the London Jewelers family: David Yurman, Bulgari, Van Cleef & Arpels, the London Jewelers Watch Salon and Gift Gallery, the TWO by London engagement shop, and Audemars Piguet. In all, there is 20,000 square feet of retail.
When it came time to renovate the Jewelry Salon, perfectionism was, naturally, the overarching objective. The specific goals were two-fold: Improve organization and elevate the luxury shopping experience both by making it more comfortable and by addressing every detail of the design. As Candy puts it, "It's not your average jewelry store look."
Advertisement
The redesign divided the store into distinct spaces, each with its own defined purpose, which makes the square footage both more usable and more intimate.
The interior takes its design cues from an elegant Parisian apartment, softening antique grandeur with a more organic, modern touch while lending a residential feel to the store. Statement chandeliers imported from Italy and France create a luxurious feel. The Nelson design team also added wood flooring and other residential cues to bring warmth to the store. Instead of standard inset carpet used in traditional retail spaces, area rugs are incorporated for a modern touch. They also added one-of-a-kind framed mirrors with digital capabilities, on which employees can showcase product features and storytelling.
As for those details, hand-built showcases are inlaid with mother of pearl. Quartz crystal countertops are integrated into the POS area. The case displays are made of Brazilian marble trimmed in gold.
Advertisement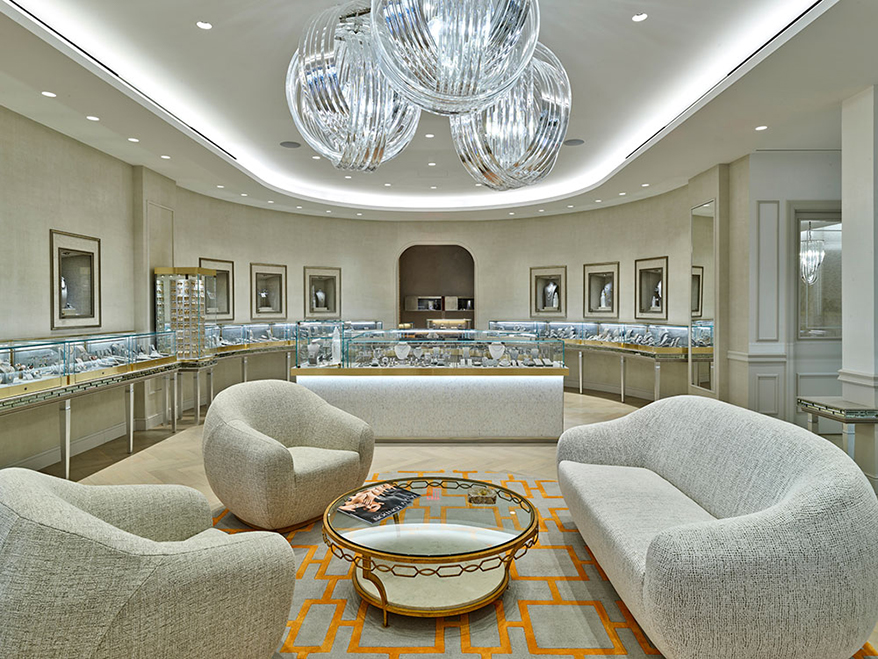 It's essential, Mark says, to make the environment very special to compete in the world of high-end luxury. With that in mind, the Udells created a VIP room adjacent to the Diamond Salon with comfortable seating and a hospitality niche. It's so comfortable, their grandchildren like to use it for coloring.
Another mark of distinction is a dedicated Bulgari boutique, which is the first of its kind in the U.S. and the only place on Long Island where clients can shop the watch and jewelry collection alongside handbags, leather goods and accessories. The space was designed by retail architect Peter Marino, evoking Bulgari's Roman heritage with chandeliers and marble finishes.
A Chanel Fine Jewelry area is centered around a custom Chinese screen that's a replica of one of Coco Chanel's from her apartment at 31 Rue Cambon.
Advertisement
In addition, in a store known for its relationships with brands, each one stands out more than ever before with its own showcase, signage and displays. "It really tells a story," Mark says.
Brands are infused with identity while also blending with the overall London Jewelers aesthetic. The in-house London Collection jewelry is also given its due, and artisan designers have their own space, too. "It's always a challenge to get it to the level where you want it to be, but it's fun," Candy says. "We always look forward to taking the standards one step higher no matter what we do.
Advertisement
"The nice thing about it is the customers' reaction when they come in and see how bright and warm and friendly it is. The light is great. It creates an atmosphere that makes it a happy place, and people want to buy because it's a happy place."
Retail jewelry has long been a happy place for the Udells.
Mark graduated from college in the 1970s and, with Candy, joined the family business that had been founded by his grandfather Charles London in 1926. The couple had developed a keen interest in prestige timepiece brands including Rolex, Patek Philippe and Cartier, and would spend several decades forming and nurturing strong partnerships within the jewelry and watch worlds.
Their children, Randi and Scott, and their nephew, Zach, represent London Jewelers' fourth generation. Randi spearheads social media, Scott runs the TWO by London engagement shop and Zach oversees watch operations.
Advertisement
Although Mark and Candy are confident in the next generation, retirement is not in the cards. "We like being busy," Candy says. "We get to meet wonderful people from all over the world and share in their joys. Our relationship with people in the industry and with the brands have led to wonderful friendships that have been long lasting. For us, it's really our whole life; our family and our business is intertwined into one."
JUDGES' COMMENTS
Jennifer Acevedo:

The sophisticated and elegant store interior is befitting of the luxury brands offered by this retailer. Smart integration of shop-in-shops from Bulgari and other brands into the showroom gives each their own individual identity that blends well with the general store design.

Emma Boulle:

Based on its online presence and marketing, as well as its beautiful interior and exterior, London Jewelers radiates a unique sense of luxury, glamour and charm. The recent renovation illustrates its refined style and clear brand coherence across the board. The exterior of the newly renovated store is alluring with its distinct architectural design.

Gabrielle Grazi:

London Jewelers is a best-in-class example for a luxury brand across all facets of the business. The Manhasset location is an elegant and sophisticated design that will flourish for years to come. The smallest of details have been considered, from procurement of the spectacular antique safe to the mother of pearl inlay on the casework and the unique artifacts and art pieces featured throughout the space.

Andrea Hill:

The stores are beautiful, and the story is a great "multi-generational" family business story.

Larry Johnson:

A beautiful, luxurious store that does a good job of combining the diverse brand imagery of their designers into a cohesive playground for their well-heeled clients.
PHOTO GALLERY
(14 IMAGES)
Five Cool Things About
London Jewelers
1. LONDON CALLING. An established personal shopping program was fine-tuned during the pandemic, expanding services to video calls, texts, home delivery and curbside pickup.
2. CHARMS GALORE. London Jewelers has recently added its own buildable charm components to its in-house London Collection to meet a desire for unique, personalized pieces to mix and layer. The collection is crafted from 14K gold and features enamel, diamonds and mixed gemstones.
3. STRATEGIC PARTNERSHIPS. London Jewelers has contracted with watch-world influencers Theo & Harris to create sponsored videos and social media posts. Rather than post videos on London's own site, they're reaching millennials who've demonstrated an interest in watch collecting. London also partners with top brands on digital search strategies, opting to have the brands pay for search and being charged back rather than competing for keywords and brand names in their territory. This raises visibility of both retailer and brand while keeping costs down, the Udells have found.
4. ALTERNATIVE AD STRATEGY. As an alternative to traditional Mother's Day and Watch Fair advertising, London switches things up by sponsoring May and October issues of Alexa, a luxury lifestyle insert within the New York Post. Ads feature London Jewelers brands, and the Alexa team creates organic editorial content that highlights their brands and services. In addition to 400,000 printed copies, content lives on the New York Post website, leaving a highly searchable footprint.
5. GLAM BATH. "Even the bathroom is beautiful because we set it up like a jewel box," Candy says. The mirror is shaped like a diamond and reflects the colorful gemstone-themed wallpaper.
Try This:
Nurture Brand Relationships.
Says Mark Udell: "The key thing I think people have to understand is that if you want to grow with the brands, you need to follow the guidelines of their image and their rules. You can't fool the big brands. You have to do it the way they want to do it. If you grow with them, they respect you and have trust and confidence in you. We represent the brand in the marketplace, and it's our family's obligation to maintain that."